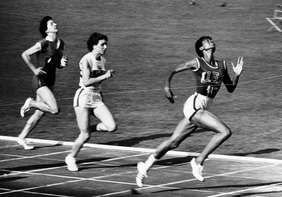 When Title IX was passed in 1972, American educational institutions were required to recognize that women have the right to participate in sports on an equal plane with men. In the past 46 years, women in sports have proven time and time again that tenacity, passion, excellence, and the drive to overcome physical and social limitations know no gender.
However, there are still battles to be won in the fight for gender equity in sports. Sexual objectification and harassment, unequal media coverage, budget disparities, transgender discrimination, violence, and hazing are some of the numerous challenges that women in sports still face every day.
To bring forward the issue of gender equity in sports the Women's Fund of Rhode Island is centering its second annual Women Leading Change eventon the experiences of women athletes.
The keynote speaker of the event will be Lynette Labinger, the Providence attorney who represented the student athletes of Brown University in Cohen v. Brown University, a 1992 class action lawsuit against the school for noncompliance with Title IX.
In 1991, Brown University had downgraded the status of the women's gymnastics and volleyball teams along with two men's teams. The case was controversial among both staff and students at Brown who didn't feel the budget cuts were discriminatory and believed the school provided one of the best opportunities at the time for women in college athletics.
But in 1993, the first district court of appeals ruled that the university had failed to meet the three provisions of TItle IX compliance. After four more years of this long legal battle, the U.S. Supreme Court denied Brown University's appeal, and the university finally settled.
The case served as a message for not only Brown University but also other higher education institutions, that women athletes were ready and willing to demand the rights entitled to them under Title IX.
Even after the court ruling, however, the students and staff of Brown University remained divided on the subject. Decades after this landmark case, and the improvements that followed, women's sports remain underrepresented in the United States. Half a century after Title IX was passed women athletes are still fighting for gender equity in sports, and many still disagree on what exactly gender equity in sports looks like.
Lynette Labinger's definition is a simple one: She believes that a future with athletic gender equity is a future where the whole world is as excited to rally behind women athletes as they are to rally behind athletes who are men. And more than two decades since she won the Title IX case against Brown University, we still have a long way to go to make the future she envisions a reality.
At the 2018 Women Leading Change event on Thursday, April 26, the Women's Fund of R
hode Island will bring together incredible women from across the state to continue the conversation about gender equity and talk about their personal experiences in the world of sports.
In addition to Lynette Labinger as keynote speaker, the celebration will also feature local sports heroines such as Missy "The Fury" Florentino, professional boxing champion; Jenny Sichel, paralympic rower; Molly Huddle, Olympic runner; and Roisin Mcgettigan Dumas, Olympic runner. Ruth Polinsky, sports reporter for WPRI, will emcee the event.
The Women's Fund will award our Susan B. Farmer Advocacy Award to Georgia Hollister Isman, the state director of Rhode Island Working Families, for her leadership in passing the state's paid sick leave law last year. We will also honor Marti Rosenberg, director of the State Innovation Model Test Grant, with a Community Leadership Award for her tireless efforts in equity initiatives and her role in helping many Rhode Island women into office.
The second annual Women Leading Change event is sponsored by U.S. Trust/Bank of America, along with Blue Cross and Blue Shield of Rhode Island, Brown University Athletics, Bryant University, Pawtucket Credit Union, Providence College Athletics, Roger Williams University, University of Rhode Island Athletics and Virgin Pulse.
For more information and to purchase tickets, visit the event's page on Eventbrite.