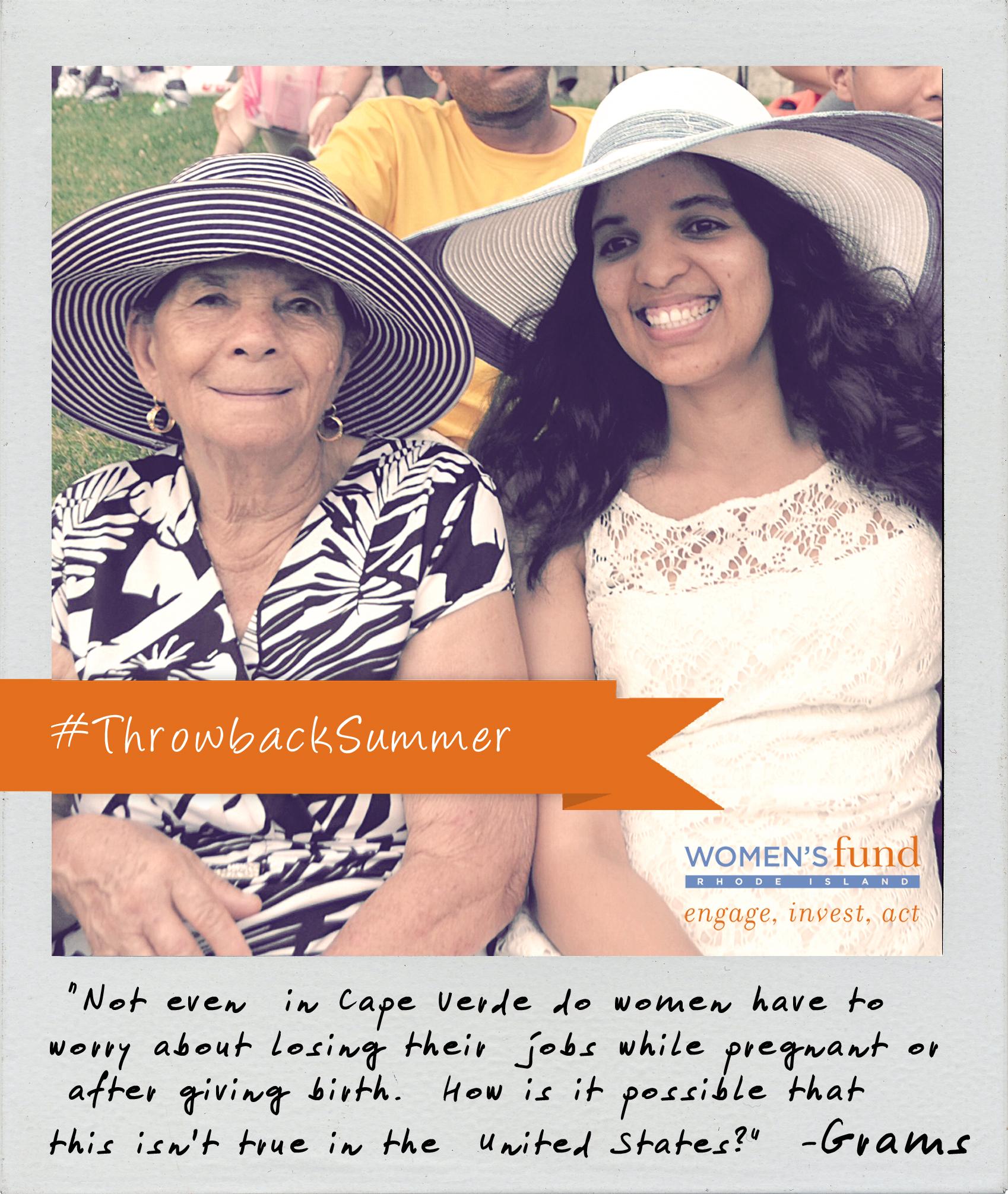 My 78-year-old grandmother recently moved from the Cape Verde Islands - an archipelago located off the West Coast of Africa - to our small state of Rhode Island.
Even though she now resides here in New England, we are still constantly catching up. She tells me great tales about our relatives and friends back home, but I mostly share stories about the exciting work I feel so fortunate to be a part of here at the Women's Fund.
So, yes, Grams (as I like to call her) knows all about the amazing women in our Women's Policy Institute cohort, our staff's late nights at the State House, the excitement we felt when little Rhody became only the third state to adopt paid family leave and the momentum gained this year for more family-friendly policies such as protecting our pregnant workers!
While Grams is thrilled to hear that this important work is happening, she is severely disappointed to learn that in the United States paid family leave and pregnancy accommodations at work aren't guaranteed for everyone. In her words: "Not even in Cape Verde (which became independent 39 years ago) do women have to worry about losing their jobs while pregnant or after giving birth. How is it possible that this isn't true in the United States?"
Wise words from my grandma, which is why I'm nominating her for the Caring Across Generations #SummerThrowback contest.
--Nuria Chantre
Did your grandma march with Dr. Martin Luther King, Jr.? Did your granddad raise you and put you through college? Did your nana make all of her own clothes - and some of yours?
These stories deserve to be told.
For many of us, the issue of long-term care starts at home. It's rooted in the love we feel for our family members, and in particular, the elders in our family.
TheThrowbackYearbook contest is all about making this issue personal by shining a light on these relationships and uplifting stories that could otherwise go untold - from the silly to the heartwarming.
Playing off the yearbook theme, you can nominate your grandparent to win one of five categories: Life of the Party, Best Dressed, Most Talented, Ahead of Their Time, or Most Inspiring. The process is simple. Submit a blurb describing why they deserve to win, upload a photo, then encourage your friends and family to vote.
Caring Across Generations is looking to highlight the stories that are usually less visible - the story of the grandparent who's raising their grandkids because their own children have been deported or are incarcerated. Or the amazing grandparent who supported their grandkid's coming out process. Please note: the contest is open to any elder who has played a significant role in your life, whether living or passed on.