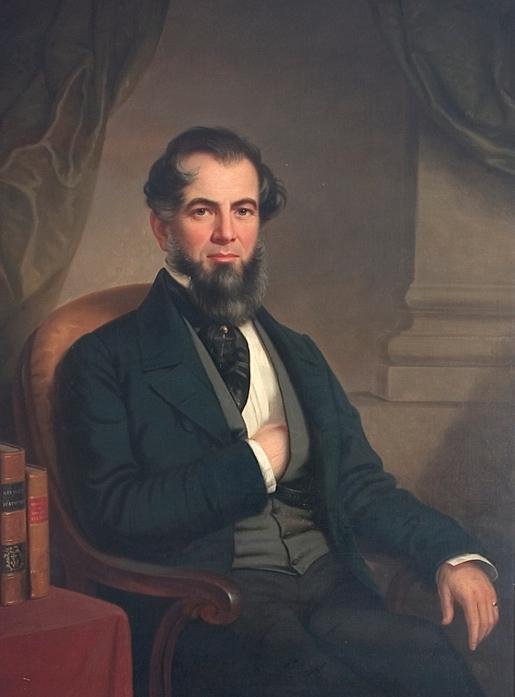 Show above: The second Union Station building (1898-1986) facing what is now Kennedy Plaza, Providence, Rhode Island. [Image: RI Secretary of State office]
Over 150 years ago the governor of Rhode Island commissioned the portrait of a RI woman inventor for display in Union Station. It was part of his public history activism strategy to build support for equal economic opportunities for women in the state.
It's 1858 and the Rhode Island economy is still reeling from the Panic of 1857 - the first global economic crisis. Right in the middle of this financial panic, a new governor takes office in May 1857. This newly elected official wasGovernor Elisha Dyer (1811-1890). He was 47 and not new to politics but rather came from an old Rhode Island family that included remarkable women. Indeed, his ancestor was Mary Dyer, the famous religious dissident mother who was publicly executed by the government in 1660 on Boston Common. Later in the nineteenth century his son, Elisha Dyer, Jr. (1839-1906), would be elected both governor of Rhode Island and mayor of Providence.
But this Governor Elisha Dyer came into state office during the Panic of 1857 and obviously faced many challenges. Not surprisingly one big concern was jobs. Perhaps more surprising was his concern with women's economic security in a risky and changing market economy. How could women feel any sense of control over their own destiny when they had limited rights to their own earnings and property after marriage, were denied the vote, and could not participate fully in the conversations needed to bring about change? How could the privileged men with the power be aligned as partners toward progressive goals? Why had Rhode Island business leaders recently blocked plans to found a design school in Providence where women would learn the skills needed to be entrepreneurial, innovative, and self-supporting?
Casting about for solutions, Governor Dyer decided the good people of Rhode Island needed to do a better job honoring the remarkable working people who had come before them. And he chose to start this public history activism project with an essentially unknown woman who was then in her seventies, and not even living in Rhode Island any more.
Who was a representative Rhode Islander? Who did Elisha Dyer seek out as the first Rhode Islander to recognize?
Governor Dyer chose to commemorate Betsey Metcalf – the young Providence girl who (around 1798) had invented a way to braid straw and had taught other girls how to do so as well. This seemingly minor achievement had major consequences. Straw braid became the raw material for what blossomed into a multi-million dollar American straw bonnet industry from about 1800 on into the 1850s. The young Metcalf girl did not seek a patent for her invention, although she was urged to do so. The historical records show that two of the first American women to receive patents were from nearby Connecticut and their inventions of 1809 and 1821 both had to do with original and novel uses of materials relevant to the straw-hat industry.
Cultural change had followed this invention as well. By the 1820s, a gentleman wrote in alarm that since the introduction of the straw hat industry in New England women were so pleased with this profitable employment that:
In a short time, scarce a girl could be found who was willing to do the work of a family .. and in less than five years after the introduction of the business, it would have been thought by many females, almost an utter disgrace to be seen at the spinning wheel, or in the loom [not to mention the lighter labours of the field]. ,,, Many of the [single] ladies .. were averse to marriage. For who … would think of taking upon themselves the care of a family? Besides it would prevent them from following this profitable employment.
Isn't it remarkable that during the Panic of 1857, Governor Dyer strategically chose to promote a forgotten woman inventor as the first subject of his envisioned public history campaign?
One major problem that immediately came up was the "forgotten" part. Little had been documented about Betsey Metcalf's invention and the Rhode Island origins of the straw-hat industry. Mostly the story lived on in local lore and anecdotes passed on by word of mouth. So, Governor Dyer first set about getting an oral history documented. The governor asked an older Providence widow if she might be willing to write Betsey Metcalf Baker (her sister-in-law) in Massachusetts? Would Mrs. Baker be willing to write her story down? In her own words? Happily, Mrs. Jesse Metcalf (1798-1858) agreed to be the intermediary, and a series of letters were exchanged between the two women in February and March 1858. Betsey Metcalf also sent along to Providence one of her old diaries and samples of her straw work from long ago. It was good timing on Governor Dyer's part to put these two women together for this oral history work because the widowed Mrs. Jesse Metcalf died two months later in May 1858.
That fall, in September 1858, Governor Dyer and his colleagues presented the story of young Betsey Metcalf, the Providence inventor, at a meeting of the RI Society for the Encouragement of Domestic Industry. The next month, in October 1858, Governor Dyer commissioned the local Rhode Island artist James Sullivan Lincoln to paint an oil portrait of "Mrs. Betsey [Metcalf] Baker, inventor of straw braid for Bonnets".
Two months later the Governor presented the finished painting to the RI Society for the Encouragement of Domestic Industry as its first work of art, happily done by a local artist. The Society passed this resolution:
Resolved, That Mrs. Baker, as the first inventor in the United States of the art of plaiting, or braiding straw for ladies' hats and bonnets, - a business which now gives employment to thousands of persons and millions of capital, - is especially entitled to honor and respect from this society, incorporated for the encouragement of domestic industry in this her native State. (December 1858)
Governor Dyer wanted everyone to know this story. And so the portrait of Mrs. Betsey Metcalf Baker would be prominently hung in the Society offices - which were open to the public and centrally-located inside the city, state, and regional hub of the new Providence railroad station building.
Where was that? Curiously enough, the portrait of inventor Betsey Metcalf that Governor Elisha Dyer commissioned in 1858 from a local artist hung in Union Station – the address in 2014 of the Women's Fund of Rhode Island.
Union Station has been a landmark location in Providence, Rhode Island since 1847, even if the location of the actual train station has moved steadily north. In 1858 the portrait of inventor Mrs. Betsey Metcalf Baker was hung in the first Union Station building, shown above (from the Providence Public Library digital image collection). The new railroad depot was designed in 1847 by 21-year old local architect Thomas Tefft, and in use for almost a half century until it burnt in 1896. It was replaced by a second Union Station building, set slightly back and north, and in use as a train station from 1898-1986. (See first image in this post.)
In the twenty-first century, this Union Station location continues the legacy of public history activism; One Union Station currently houses the Rhode Island Foundation and Rhode Island Public Radio, as well as the Women's Fund of Rhode Island.
One Union Station in downtown Providence, RI 02903 [Bing Maps, 2012]
RI Governor rebels against "Representative Men": It is remarkable that in 1858 the governor of Rhode Island would innovate the very category of "Representative Men" – to use the catch phrase popularized in the 1850s by Ralph Waldo Emerson. Right inside the transportation hub of Rhode Island's capitol city, the portrait of a woman inventor and industry "disruptor" stood as a beacon. This is leadership standing against the tide
Re-imagining Betsey Metcalf's portrait: Who thinks James Sullivan Lincoln rose to the occasion offered by this commission to paint a portrait of Mrs. Betsey Metcalf Baker as a noteworthy public figure? He had been painting the official portraits of Rhode Island's all male government officials for years. But a 72-year old grandmother as a noteworthy Representative Rhode Islander ??? In this painting, James Sullivan Lincoln shows us an almost muted women set in an ambiguous background with her hands crossed. A dominant white ribbon is tied at her voice-box, with each end covering a breast. Mrs. Baker's portrait exhibits none of the purposefulness we might hope to find expressed in this public tribute to a curious and creative inventor.
I ask: what would have happened if Governor Dyer had commissioned a woman artist instead? After all, a recent 1850s art exhibition in Providence had included a host of work by women artists – including the cross-dressing lesbian French painter Rosa Bonheur and many Rhode Island born women artists such as Gilbert Stuart's daughter, Jane Stuart (1812-1888) - who moved her studio back to Rhode Island around this time.
Should we have a shout-out to artists to come up with a better commemorative Betsey Metcalf portrait?
Inventor Betsey Metcalf Baker (1786-1867) by James S. Lincoln, October 1858. Given to the Rhode Island Society for the Encouragement of Domestic Industry by Governor Elisha Dyer in December 1858. [Lincoln, James Sullivan. Betsey Metcalf Baker. 1858. Oil paint on canvas. Painting Collection, Rhode Island Historical Society: 1920.14.1]
Detail: Portrait drawing of Betsey Metcalf Baker by Lucius Damrell (1833-1872).
Westwood Historical Society
Undaunted at the end of 1858, Governor Dyer requested that all of the research gathered on the Betsey Metcalf story be printed like a breadcrumb for posterity in the journal of the Rhode Island Society for the Encouragement of Domestic Industry. Elisha Dyer, himself, declined to be re-elected President of the Rhode Island Society for the Encouragement of Domestic Industry or run again for Governor of Rhode Island. Although he did continue to collect and document oral histories on Rhode Island innovators as part of a very different kind of Representative Men of Rhode Island (1881) compilation than he himself was later included in (– and which does not mention Betsey Metcalf).
And so, Governor Dyer's resurrected story on "Betsey Metcalf, Inventor" might have ended in
December 1858, buried in a society journal you can hardly locate anywhere anymore. Instead, the story he had sown slowly spread into a more general public consciousness.
The following spring of 1859, another committed public historian presented the story of Inventor Betsey Metcalf at a meeting of the Rhode Island Historical Society and the story dug in a little deeper. In 1863, a visitor stopped by the Union Station offices, saw the portrait, heard the story, and decided to mention the Betsey Metcalf story in "What-Not; or Ladies Handbook for Ladies". From there the story was picked up by the national press. Harper's New Monthly Magazine featured the Betsey Metcalf story in a long illustrated history on the straw hat industry that this popular magazine published in October 1864. It is this long Harper's article that is still referenced today.
"The First American Straw Bonnet": Harper's New Monthly Magazine, October 1864 featured
Providence native Betsey Metcalf Baker and the invention of the American straw bonnet industry.
The Betsey Metcalf Baker story was included in the 1867 book, Women's Relation to Education, Labor and Law, written by first-wave feminist Caroline Wells Healey Dall. She had been lecturing publicly on this topic since 1860. Following this, Mrs. Gage dedicated Woman Suffrage Tracts – No. 1 to the topic of "Woman as Inventor" in 1870.
By 1876 Governor Elisha Dyer's slowly percolating public history project further encouraged the Rhode Island Centennial Woman to help fund a separate Women's Pavilion at the 1876 World's Fair in Philadelphia. A novelty at the time, the Women's Pavilion only exhibited work by women - including a host of patented inventions by women.
The Women's Pavilion at the 1876 Centennial highlighted women's "economic right to self-sufficiency" and included exhibits from recently-founded design schools, displays of new patents by women entrepreneurs, and a library containing only books and newspapers written by women.
When the World's Fair closed in 1877, one can easily imagine many of these same women aligning with 47 year old Helen Adelia Rowe Metcalf (1830-1895) – the wife of Betsey's Metcalf's nephew – to vote to found a design school in their own state. Yes, Rhode Island women did need a design school as part of a larger and longer-term struggle to ensure women's full participation in American life. And these older women would be activists and make it happen.The Rhode Island School of Design (RISD) opened its doors in downtown Providence in the fall of 1877; Helen Adelia Rowe Metcalf ran it until her death, and then her daughter took over the reins. Other Rhode Islanders helped establish other design schools for women across the country.
From Betsey Metcalf's invention of 1798 until 1900, the number of women seeking patents grew steadily and in parallel with women gaining more legal rights to their own intellectual property and earnings.
Governor Elisha Dyer's leadership promoting women's rights mattered.
What's next? Pass the story on! Governor Elisha Dyer's commitment to public history activism on behalf of women was an act of renewal I want to honor by passing the story along to you today. Please share it, and ask the older women in your life to tell you their story, too.
Conclusions
Stories matter. Remarkably, the story the governor of Rhode Island collaboratively created in 1858 is the same story we still tell today about the transformative economic power created by one Rhode Island woman's invention.
Strategy. The governor of Rhode Island relied on public history activism as a strategy for shifting public opinion and reforming policy in the near and long term. Two hundred years after his Quaker ancestor, Mary Dyer, was executed on the Boston Common, Governor Dyer understood women's long journey to be accepted as co-creators of an American future. Perhaps this gesture in 1858 was his act of remembrance?
Art. The visual arts and an enthusiastic art patron were the ambassadors that helped the "Betsey Metcalf – Inventor" story find a national audience. It wasn't only about having a painting in an office building or museum, or on the street as a public monument. What seems to have been most influential was having someone personally invested in why the story mattered. Dyer was passionate about why the work was commissioned in the first place. Women were "Representative Men", too.
Document. Elisha Dyer made it a priority to record the economic innovations made by an older woman because this kind of supportive historical ecology would encourage a new generation to dream a bigger American dream. Governor Dyer's project prompted older women to write letters to one another and purposefully reminisce about their lived experiences. It paints a different picture of Rhode Island's history.
Broadcast to eye and ear. Dyer gathered up this archival material and the summarized story and placed it all into the public domain as text and image. He personally made sure the state's (male) business leaders would know about this important story by having it read to them at pivotal learned society events. Not content to rely on the written or spoken word, Dyer commissioned an artist to communicate the story visually. The resulting painting was neither very large nor very small. It was the size of everyday life in an office, ever ready to prompt a story.
Follow-up. In January 1859 Governor Dyer appointed Thomas Tefft, the architect of Union Station, to be Rhode Island's first Commissioner of Industrial Education and report on best practices in Europe.
Wind in Your Sails. Gathering coalition energy is hard work, and alliances fragile. Tragically, Tefft died in December 1859; he was only 33. After 1859, Dyer declined to seek re-election as either governor of RI or president of the Society for the Encouragement of Domestic Industry, although he continued documenting an alternative history of a kind of Representative Rhode Island Innovators to set aside the normative Representative Men.
Timeline – Sprints, Marathons & the Zen of Now.
It was about 200 years after the execution of dissident Mary Dyer on the Boston Common in 1660, that her descendent, Rhode Island Governor Elisha Dyer, commissioned a portrait of Inventor Betsey Metcalf as a representative Rhode Islander.
It was 6 years from the time Governor Dyer began documenting Betsey Metcalf's story in 1858 until the national press article in Harper's in 1864.
It was about 30 years from the time the first three design schools for women were founded in Philadelphia, Boston, and New York between 1848-1853 and the eventual founding of RISD as a co-ed design school in 1877.
It was a further 60-plus years from 1858 until 1920 when the 19th Amendment to the Constitution was ratified, finally recognizing American women as voting citizens.
From the 1660s until the present day in 2014, seven (7) women have been elected to state-wide office in Rhode Island.
Clearly we are on a political marathon even though Rhode Island women have a long proud history of living and breathing each grounded day in the Zen of Now.
Nancy Austin is a student of Rhode Island's history. She has taught at RISD, Yale, and WPI and received her Ph.D. from Brown University in 2009 with a thesis on the founding of RISD and its Museum.
Nancy believes now is a time for public history activism beyond the classroom. She offers her skills as an expert archival researcher and innovative critical thinker to help individuals, institutions, and places discover new strategic opportunities based on their own untold stories. Stay tuned on the RightHer Blog to follow her series on transformative historical moments that have impacted Rhode Island women's economic opportunities.
Follow Nancy on Twitter @AustinAlchemy.
Contents of this blog constitute the opinion of the author, and the author alone; they do not represent the views and opinions of Women' s Fund of Rhode Island.